Automatic Emails and Listing Sites
February 10, 2017, by
John Amato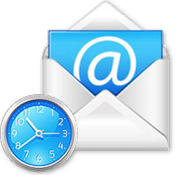 If you are currently using either iCal feeds or a
Channel Manager
, then this announcement is very important to you.
How It Works Now
Bookerville has been suppressing Automatic Scheduled Emails and triggered emails for bookings that originate from external sources like
Channel Managers
and iCal feeds. This is because some emails just don't make sense depending on where the booking came from. For example, AirBnB collects funds from the guests, so sending them a Payment Reminder email doesn't make sense, and might confuse or even concern the guest. There are many other examples, but suffice to say, to err on the side of caution, Bookerville has not been setting up the Automatic Scheduled Emails, nor the initial "triggered" emails for these bookings, but instead allowing you to go into these bookings and either send the emails manually, or set up an alternative set of Automatic Scheduled Emails, etc.
What We're Doing Next
To improve things, Bookerville has recently added new criteria fields to your Email Templates, which allow you to specify if the email should be sent
only
for certain listing sites, or
suppressed
(not sent) for certain listing sites. If you are using iCal feeds, and/or a
Channel Manager
, it is important that you go in and configure these new Email Template settings soon, because
Bookerville is going to turn on Automatic Scheduled Emails and triggered emails for these bookings.
When?
We have not yet determined a date at which we are going to turn on Automatic Scheduled Emails (and initial triggered emails) for external bookings, as we want to make sure our members have enough time to read and digest this news, and go make use of the new criteria feature to set up your Email Templates appropriately for the channels you're using. But we do want to act on this quickly, so that everyone can start enjoying the richer automation.
What You Need To Do
Please go into your Property Setup page >> Emails & Templates tab, and click into each of your Email Templates to see if you want to make use of these new settings.
And of course, reply here if you have questions or concerns.
Reply »
Recent Posts:
---
Monthly Archives:
---
Categories:
---

Vacation Rental Channel Managers
November 3, 2016, by
John Amato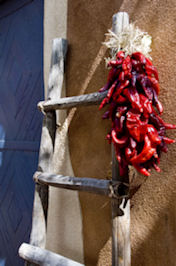 You have probably started to hear the term Channel Manager kicked around lately. It's a relatively new concept in the vacation rental industry that has been growing in facility and popularity.
So What Is a Channel Manager?
A Channel Manager is software that facilitates rich data integration with many different listing sites ("channels") for convenience in a single dashboard. Channel Managers are usually 3rd-party services, but in some cases they are a part of the property management software.
What's So Great About a Channel Manager?
Channel Managers can take your property data (features/amenities, rates, taxes, photos, etc.) from Bookerville and automatically distribute it to listing sites like Booking.com, AirBnB, Expedia, HomeAway/VRBO, FlipKey, etc. This convenient arrangement enables you to manage all your properties and bookings from one (beautiful!) dashboard in Bookerville. Extending rates every quarter? Do it once in Bookerville, and you're all set everywhere.
Full, real-time calendar synchronization is provided, which all but guarantees no double-bookings. And bookings from the listing sites appear in your Bookerville calendar, complete with guest contact information, booking amounts, and ready to be managed with all the Bookerville tools you can't live without. Channel Managers provide a vastly superior calendar sync than iCal, for example.
What Does a Channel Manager Cost?
There is no additional fee to use the Channel Managers, and you don't have to pay anything above your Bookerville subscription fee to use them.
The Channel Managers are commission-based. The cost of using them is the cost of the commission the channel itself charges, plus the commission of the Channel Manager. However, you can choose to pay any portion of those commissions yourself,
including zero.
They will inflate your rates by whatever it takes to cover the difference, so the guests are unwittingly paying the commissions. This concept is often referred to as
Net Rates
.
How Do I Get Started With a Channel Manager?
Bookerville integrates with two Channel Managers: BookingPal and Rentals United. Follow these links to learn more, and also find short forms to submit for them to contact you for more information, and how to get started:
BookingPal
Rentals United
Channel Managers provide a very easy, very risk-free way to get your properties exposed to multiple listing sites, without going crazy trying to update your data and synchronize your calendars in numerous dashboards. Additionally, the platform should only improve with time, as more listing sites ("channels") are being added all the time. Another bonus: forcing the various listing sites to compete like this should also help reduce commissions over time.
Reply »
---

At-A-Glance Tab Updates
May 2, 2016, by
John Amato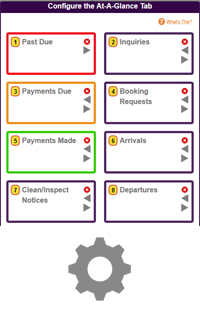 If you haven't noticed yet, there are some new changes to your Dashboard >> At-A-Glance tab. The first thing we did (and this was a while ago) was we made that page "responsive", so that it has a more useful appearance on small screens (phones).
This tab started out with just a few boxes, but has grown a lot over the years. And recently, we've received a lot of feedback that it is "busy", overwhelming, and difficult to zero-in on the data you need to see.
So the recent changes are an effort to alleviate that. Here's what's new:
1) You can turn off boxes that you don't care about or aren't using.
2) You can change the colors of the title bars, to help your eye be drawn to the data you are looking for.
3) You can also re-arrange the positions of the boxes.
What are your thoughts? As always, we welcome all (constructive) feedback.
Thanks!
Reply »
---

Bookerville Reads Your VRBO iCal Feed
April 17, 2016, by
John Amato
You can have Bookerville read your VRBO iCal feed. Go to your Bookerville Property Setup page, and scroll down until you see the "APIs, Calendar Sync, and Integration" section:
Look for the check box to "Allow Bookerville to block dates on your Bookerville calendar from VRBO's iCal feed". Be sure to check the box.
Next you need to find your VRBO iCal feed URL. To find your VRBO iCal feed URL, read VRBO's instructions on it. Look at the "Import external calendar" section of this page:
Finding Your VRBO iCal Export URL
. Copy the URL (Ctrl-C) and paste it (Ctrl-V) into the field in your Bookerville Property Setup page.
That's it - Bookerville will begin reading your VRBO calendar and importing blocked dates from it into your Bookerville calendar. Some notes:
1)
Be sure to read the "What's This" next to it for important details.
2)
Bookerville currently reads external iCal feeds
once per night
(2:30 am Eastern Time).
3)
As of March 16, 2016, Bookerville is no longer removing bookings from your Bookerville calendar simply because those bookings don't appear on an external iCal feed. Instead, Bookerville sends an email to you notifying you of the booking that seems to be missing from the external iCal feed, so that you can investigate and remove it manually if needed. This is due to the unreliability of certain external iCal feeds.
Also note: Only dates (and usually at least an abbreviated guest name) will be brought over into your Bookerville calendar from an external iCal feed, because that is all the other systems usually provide. If you want richer data integration with listing sites, consider using one of Bookerville's Channel Managers:
BookingPal:
BookingPal Channel Manager
Rentals United:
Rentals United Channel Manager
Reply »
---

Guest Services Mobile App!
January 15, 2016, by
John Amato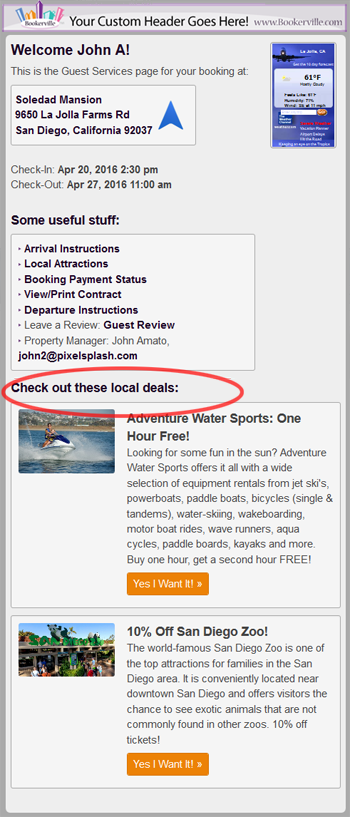 Give your guests everything they need to maximize their vacation, right on their phone! Bookerville's new Guest Services mobile app is the perfect way to provide your guests instant access to everything they will need or want. It can also save you time by answering their questions without calling or emailing you. And - you could even earn commission on tourist sales by providing your own affiliate links!
What's In It?
The Bookerville Guest Services app. provides the following (when applicable, per your settings):

Your custom Arrival Instructions.

Property address - and with a tap of the button, their phone's navigation app starts and guides them to it!

Local weather - so they can see what to expect when they arrive.

Check-in, check-out dates and times.

Local Attractions - as you've entered them in your Features & Amenities.

Payment Status - lets them know where the booking stands and they can remit payments right on their phone.

View the contract.

Your custom Departure Instructions.

Link to leave a review.

Your contact info. (phone and email address).
Nothing to Download
Unlike Glad to Have You and other concierge-oriented apps, the Bookerville Guest Services mobile app is already available on any smart phone. And there's nothing to install or download - no "permissions" or terms and conditions needed to use it. You can provide a simple link for them to click right inside your Email Templates. Perfect for the Arrival Instructions email!
Customize With Your Special Deals!
Perhaps the most exciting part is that you can set up your own special deals/offers. Each of these can have a photo, title, description, and link to local tourist attractions. Golf courses, restaurants, theme parks, water sports - anything you want to offer. The links can be your own Affiliate Links, which can lead to commissions for you when guests click them.
How Do I Use It?
Simply place this (or something like it) into any of your Email Templates:
Here's a link to a handy page for your phone; it includes directions, local information, and special deals to help you get the most out of your stay: [URL=[GUEST SERVICES PAGE LINK]]Guest Services[/URL]
The best place to put it is probably in your Arrival Instructions Email Template, and schedule it to be sent just a few days prior to the arrival date, using Bookerville's much-loved
Automatic Scheduled Emails
. Note that depending on how new your Bookerville account is, this verbiage might already be in one or more of your Email Templates.
Need Help?
As always: just ask. We can also help you set up your own special deals or offers so that they appear in the Guest Services app.
Reply »
---

How Bookerville Sends Email
August 3, 2015, by
John Amato
You most-likely got to this page because you received some kind of "bounce" email message that said something about a 'From' address and a 'Reply-To' address.
Bookerville is software used by vacation rental managers to automate their emails. When Bookerville sends email on behalf of property managers, the 'From' address
must be
set to a bookerville.com email address, in order to be compliant with email standards (
DKIM
,
DMARC
,
SPF
).
So we set it to

. Any emails sent to our

address - whether directly or by replying to an email sent to you - are simply "bounced" - no human sees it.
But Bookerville also sets the
'Reply-To'
address to be the email address of the property manager. This is supposed to cause your email system to use that address when you click the "Reply" button. Most of the time, this works fine, but there are some email systems that erroneously use the 'From' address instead of the 'Reply-To' address. When this happens, your response ends up going to

instead of to the property manager.
When this happens, Bookerville sends you the message you received, and also attempts to send a similar message to the property manager so that you two can resume your conversation.
So that's all it's about. If you received such an email from Bookerville, it's probably a very good idea to look into your email system settings and see if it is doing the right thing when you click your "Reply" button. The easiest way to do that is probably to go find the very first email you received regarding your booking (or other correspondence) and see what happens when you click your "Reply" button. Does it try to send it to

? If so, there's something wrong with that email system, and you should try to find out how to correct it.
Always contact your property manager first. If that fails, and you are in need of assistance, or if you think there's something wrong with the way these emails are being handled, please let us know:
contact us
Reply »