Embeddable Widgets
Bookerville's variety of powerful widgets can be embedded into your own webpages, blogs, etc. with simple iFrame scripts. And we can help you!
Availability & Booking Calendar
This is the main, full-size availability and booking (or request) calendar. It is interactive: guests select available dates by clicking right on the calendar, and can price out stays, and either book directly (Guest-Centric mode), or make a request (Manager-Centric mode). Intuitive and with custom colors to match your own web page perfectly.
Guest Options
and other selections for payment, security deposits, and more are presented during the price-out process. Also optionally require agreement to your custom contract or your terms & conditions page. Click here for a video and also an interactive demo:
Booking Demo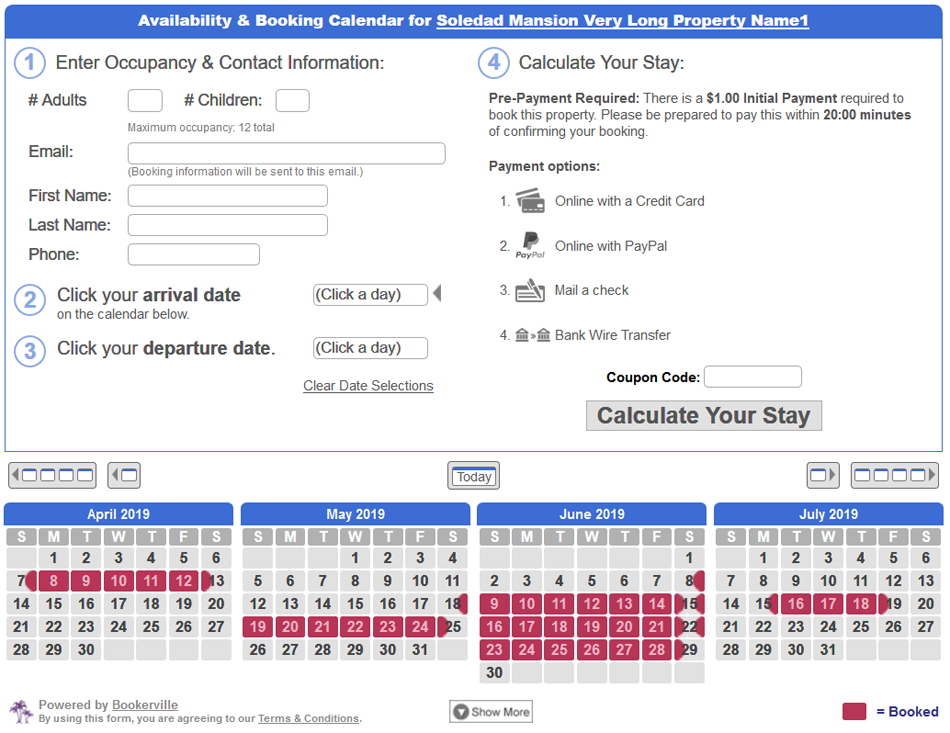 Mobile Availability & Booking Calendar
All the power and flexibility of the full-size Availability & Booking Calendar (above) but optimized for the smaller screens of today's mobile devices. If your website utilizes "responsive-design" to display pages that are optimized for mobile, then integrating this new widget can compliment that. Colors can be customized to blend into your site.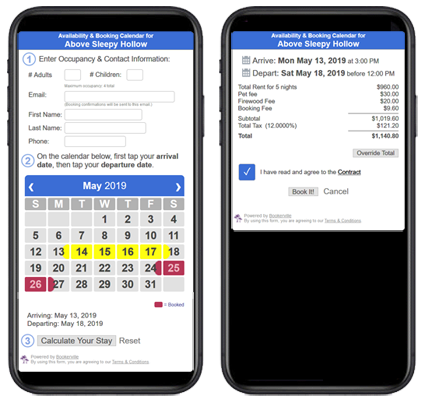 Rate Table
This widget displays your rates in table form, showing different rates for different ranges of dates ("seasons"). Embed this into your own website, and then whenever you update rates in Bookerville, they will automatically appear wherever this widget is embedded. Nice, huh? With Bookerville's super-easy Rate-Setting tool, you'll be saving lots of time by having all your published rates updated in real-time.

Read-Only Availability Calendar
For those looking for availability only, this widget is for you. Guests can see availability, but cannot select dates to price out or inquire. Colors can be customized to blend into your site.

Inquiry Form
This form collects simple information from the guest, and creates a Booking Request (not a real booking on your calendar). It then sends an email to you with a link to go see the Booking Request details, and you can track all of these on the At-A-Glance tab on your Dashboard.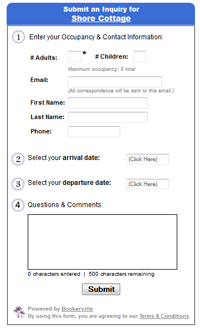 Public Master Calendar
Very similar to your own Master Calendar on your Dashboard, only this does not show color-coded statuses or any details. Guests can quickly find which of your properties are available and when, and also can interactively select the dates they are interested and jump to the booking (or request) process. Can also run in "inquiry-only" mode, where it functions similarly to the Inquiry Form (above): request details are emailed to you, so you can follow up and make the sale, but the guest cannot price-out a stay.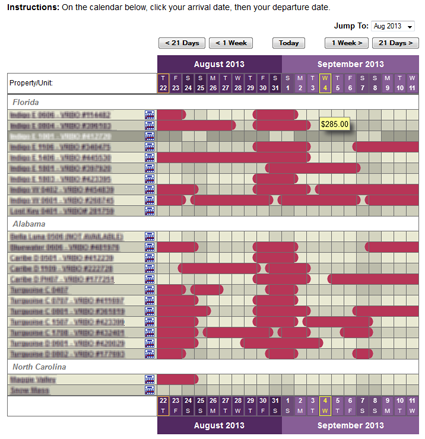 Multi-Property Availability Search
You or your guests can click dates of interest on a calendar, then search for available properties in your account. Results are listed by estimated pricing, occupancy, and photos, with quick links to jump to pricing, booking or requesting. You can embed this widget right into your own pages, with custom colors to match.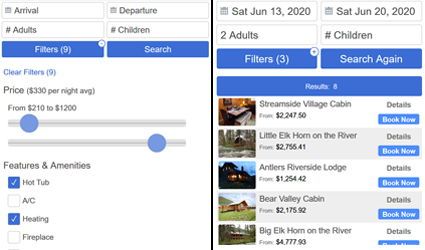 Guest Reviews
Why not consolidate your guest reviews? Bookerville makes it easy, and you can publish your reviews on your own web pages. You can control the colors, and even filter on minimum score - show only your 5-star reviews if you like. Show reviews for all your properties, or just specific ones.