Vacation Rental Software Overview
Let us introduce you to some of Bookerville's most popular and powerful features.
Master Calendar
Your Master Calendar clearly shows all bookings, color-coded by status. Easily scan for transition days, availability, and create bookings or quotes just by tapping dates. Hover over bookings to see summary pop-up, or click on a booking to go to the Booking Details page. Search for bookings (or quotes, inquiries, etc.) by guest name, phone, or email address. Quick links to jump to future or past months. Properties are listed alphabetically by name, but can be grouped by type. Dates and rows are highlighted as you move your mouse so you can quickly & easily click the dates you want. Tap a button to toggle colors to reflect Agents who booked instead of booking status. There is a public version of the Master Calendar too, that you can embed into your own web pages.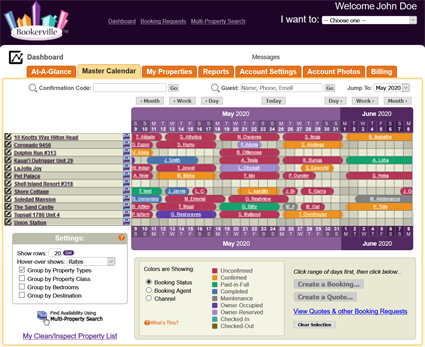 Channel Managers
Bookerville incorporates several features which help you manage inquiries and bookings from a huge number of popular vacation rental marketing channels. These features include our industry-best
Inquiry Auto-Responder
, calendar synchronization with iCal exports, and other integrations. We have also partnered with two full-scale Channel Managers:
Rentals United
and
BookingPal
, each of which provides rich channel management across dozens of listing sites, including AirBnB, Booking.com, Homeaway, VRBO, Expedia, and many others. Manage all your leads and bookings in the same great software you manage everything else from! Learn more:
Vacation Rental Channel Managers
.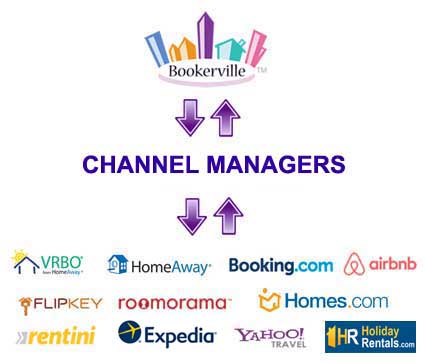 Email Templates
Customizable Email Templates are pre-populated with all the information you want to include: guest data, booking dates and amounts, payment schedules, contracts, etc. Include your own header banners, photos of your property, links to relevant web pages, PDF files, and more. No more copying & pasting from Word or text documents! Eliminate mistakes, and send professional communications with a tap of a button.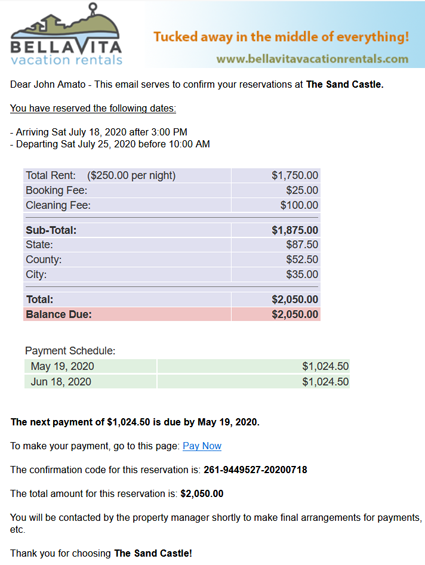 Automatic Scheduled Emails
Using your custom
Email Templates
, Bookerville can be setup to send any of these based on any number of days before or after the check-in date, the check-out date, payment due dates, or the date the booking was made. Perfect for billing guests and past due notices, cleaning crew reminders, arrival instructions, security or key-swap offices, and more. Never again forget to send those critical emails, and at the exact right times! Bookerville will do it for you, and send you summary notices each night of what went out.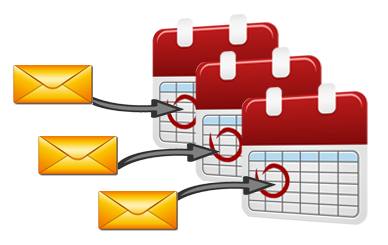 At-A-Glance
The At-A-Glance tab on your Dashboard shows key current activity like Arrivals, Departures, Inquiries, Payments Due and Past Due, Recent Payments Made, and Scheduled Emails. Defaults to the current forward two weeks, but you can override the filter at the top, and even zero in on specific properties. Quick links to jump to details at every step. Indispensible!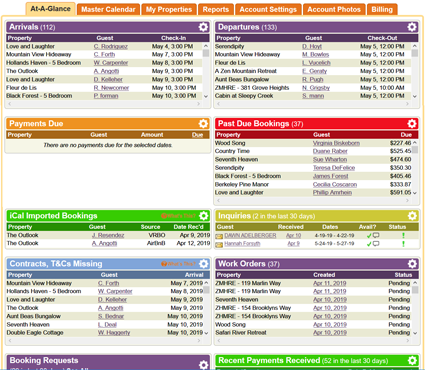 Availability & Booking Calendars
Bookerville provides a variety of availability and booking/request calendars that you can embed directly into your own web pages, with 100% custom colors that will make them blend in perfectly with your website. Manager-Centric (Request Only) and Guest-Centric (Online Booking) options available, also read-only calendars. Interactive and intuitive. Price-outs, custom
Guest Options
, and optionally force agreement to Terms & Conditions or your custom contracts. Collect initial payments as part of the booking process, funds go directly into your account with no Bookerville fees.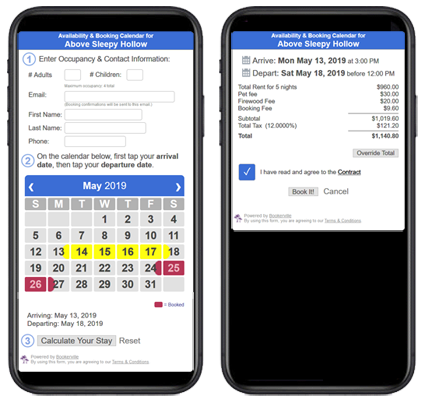 Inquiry Auto-Responder
Bookerville can automatically respond to inquiry emails sent from listing sites. Homeaway, VRBO, AirBnB, FlipKey, Holiday Lettings, Stayz, and VacationHomeRentals currently supported. Don't see yours listed? Ask us to add it! Respond immediately, and get your customer into your own funnel (website). Can also send them straight to your booking calendar, or to request a quote. If multiple properties, Bookerville's response email will list available properties with photos, estimated pricing, and quick links to book or request each one. Learn more about our industry-best
Inquiry Auto-Responder
.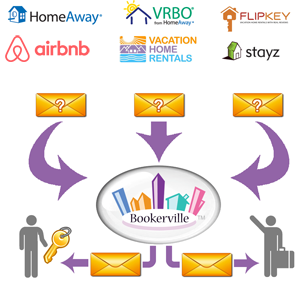 Synchronize Calendars
Bookerville's
iCal Export
feature can be used to synchronize your calendars with HomeAway/VRBO, FlipKey, AirBnB, VacationHomeRentals, Holiday Lettings, and other listing sites, Google, Outlook, iPhone, etc.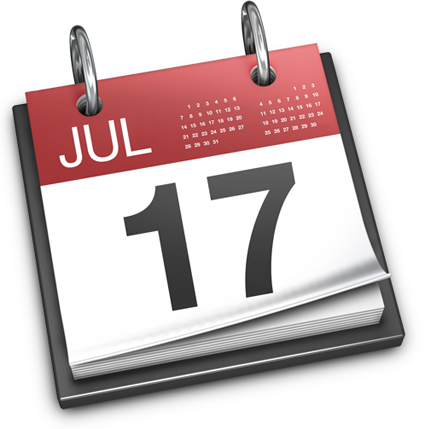 Rate-Setting: Advanced & Easy!
Bookerville has the best and easiest-to-use rate-setting feature in the business. Simply click ranges of dates visually on the calendar to highlight, then set rates for them. Nightly, Weekly, and Monthly rates supported, as well as special pricing for weekends, and support for as many "seasons" as you like. Multi-Day Discounts, Coupon Codes, and surcharges for extra guests all supported. You can also copy rates to other properties with a click, and copy rates forward to the next year with adjustments. Setting Min/Max Stay requirements is just as easy and flexible. Watch this video to see how easy it is!
Multi-Property Availability Search
You or your guests can click dates of interest on a calendar, optional features & amenities filters, then search for available properties in your account. Results are listed by estimated pricing, occupancy, and photos, with quick links to jump to pricing, booking or requesting. You can embed this widget right into your own pages, with custom colors to match.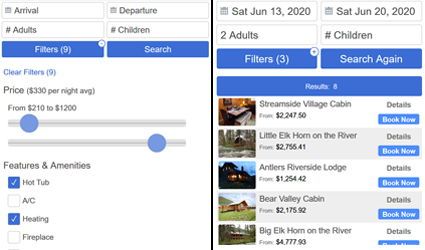 Multiple Users
Setup multiple users with specific levels of access, on a property-by-property basis. Ideal for cleaners, owners, agents, other partners or staff. They can see limited or full versions of your Master Calendar, At-A-Glance tab, and Reports.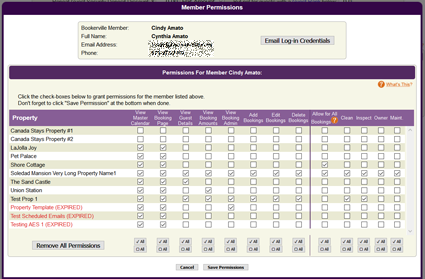 Custom Contract Generation and Management
Create your own, custom contracts, and Bookerville will pre-populate them with guest information, booking dates and amounts, payment schedules, and more. Require guests to preview and agree to contracts before proceeding with bookings, quote confirmations, or even price-outs if you want. Bookerville records ip address of guest and timestamp when contract is agreed to. Printable versions, embed in
Email Templates
, download as files. It's all automatic!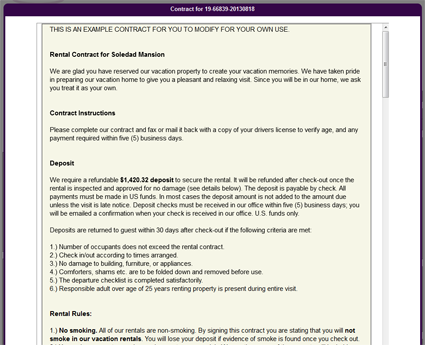 Housekeeping
Cleaners, inspectors can use their phones to report cleanings and inspections, report damage, theft, or other issues. They can also take photos and upload to your Bookerville account right from their phones. Bookerville retains a complete history of cleanings, inspections, who did which and when, and any issues reported, and photos submitted. View status of cleanings & inspections from your At-A-Glance tab, and also run reports to see history, etc. Learn more:
Housekeeping Automation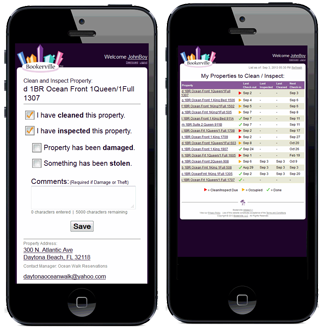 Multiple Currencies Supported
International currencies supported, and can be different for each property. Embeddable rate tables, availability & booking calendars, and reports all reflect selected currency. U.S. Dollar, Euro, British Pound Sterling, Japanese Yen, Dutch Florin, Thai Baht, South African Rand, Australian Dollar, Canadian Dollar, Mexican Peso, International Generic Currency Symbol, and also no symbol at all (currency-agnostic). Don't see yours listed? Contact us and we will add it.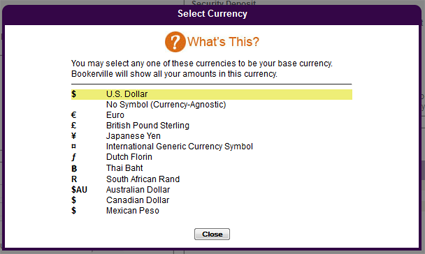 Reporting & Exporting Data
A variety of built-in, easy-to-use reports awaits you on your Dashboard. Including comprehensive Owner Statements, with automatic recurring and manual expenses. Filter by dates, property(ies), agents, marketing channels, property types, states, and more. Filter remembers your settings from session to session. Each one has a "Print-Friendly" version, and also an Export to CSV option. Members with permissions also can see certain reports. Learn more:
Bookerville Report Tour