Publishing Your Vacation Rental Availability in iCal (.ics) Format
The iCalendar (iCal) format is one of the most commonly used for sharing calendars. You can share your Bookerville availability with listing sites, Google Calendar, etc.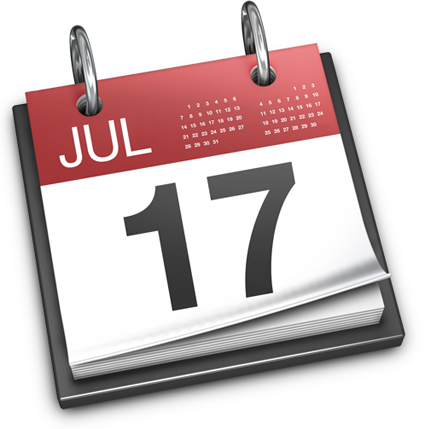 What is iCal?
iCal is a specific file format for importing/exporting calendar data, and is the most commonly-used "standard" calendar format. Because of this, it is very handy to be able to export your availability data in iCal format. iCal files have a .ics extension.
Does Bookerville Support iCal?
Yes. Every property in Bookerville has a specific URL that can be used to publish, or export the availability for the property. You are free to use this URL anywhere you like, without limitation, and at no extra cost.
The URL for the iCal format file of your availability calendar can be found in the upper-right area of the Property Setup page for your property: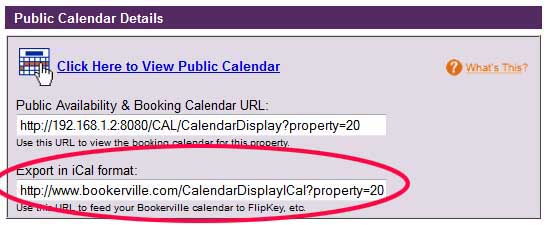 Note:
the above image is just an example; your iCal URL will have your unique property number in it, so you need to obtain this from your Property Setup page. Copy & paste this URL to wherever you want to export, publish, or otherwise share your Bookerville calendar.
Why Would I Want to Use iCal Feeds?
The most common reason to make use of this iCal URL is to import your availability data into listing sites. Many listing sites provide a place for you to enter this iCal URL, and then the listing site will immediately read in the data, importing your current bookings from Bookerville automatically. Many will also periodically re-read the URL to get updates, thereby providing synchronization of availability, saving you from having to update multiple calendars every time a new booking is entered, deleted, or modified. Nice, huh?
Who Else Supports iCal Feeds?
At this time we are aware of several listing sites that integrate like this with the iCal format:
AirBnB
Booking.com
HomeAway/VRBO
FlipKey
HouseTrip
VacationRentals
Holiday Lettings
And there are probably many others: if you have a service or partner you'd like to sync using iCal feeds, ask them if they support them. Also, you can use this iCal URL to push your availability data to Google Calendar, Apple's iCal, Outlook, and many other popular calendar products. Here is a topic in our Forums that discusses integrating with FlipKey using the iCal URL:
Synchronizing FlipKey calendars with Bookerville using iCal
Talk to us if you need any help obtaining or using your iCal URL: we are happy to assist you.