Accepting Checks For Your Vacation Rental
Although the trend towards online payments continues, accepting traditional checks is still a big part of the vacation rental industry.
There are a few things you need to configure in Bookerville to accept checks.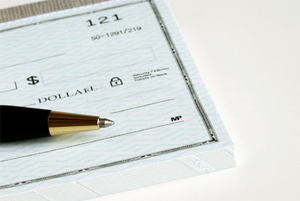 Enter Your Business Contact Info.:
In your Dashboard ==> Account Settings tab, be sure to fill out the Business Name - this is what Bookerville will tell guests to make their checks payable to. Also be sure to enter the complete and correct address information; Bookerville also tells the guests to mail their checks to this address.

Property Setup:
In the Property Setup page, look for the "Accepted Forms of Payment" box in the lower-right area. Be sure to consider the following:
| | |
| --- | --- |
| | Pre-Payments: Do you accept checks for the initial "pre-payments" of bookings? |
| | Subsequent Payments: Do you accept checks for subsequent payments? |
| | Security Deposits: Do you accept checks for refundable security deposits? |
| | Wires, Certified Checks: There are other forms of payments similar to traditional, paper checks like Wire Transfers, certified checks, and ACH payments. Bookerville also supports these more modern versions. |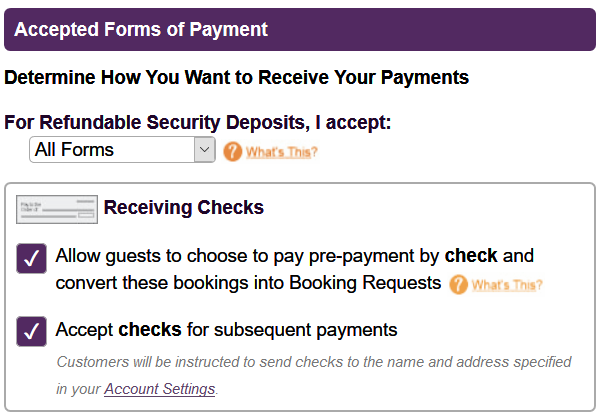 Booking Requests:
Note that if you require a pre-payment for bookings, and you also accept checks for the pre-payments, if a guest chooses to pay a pre-payment by check, the booking will be converted into a Booking Request (removed from your calendar) so that you can put it back on when you receive the check, or when it clears. This is the most common practice among VR managers, and is considered good policy. Be sure to announce your check policy (whether you accept them or not) on your website, listing sites, etc. so that potential customers know what to expect.