Bed And Breakfast Management Software
Do you own a bed and breakfast? Do you have an online availability and booking calendar for it?
If you do, are you paying too much for it? Increasingly, vacationers are looking for ways to book their trips online. They want to see your
bed and breakfast's
availability and rates without having to call or email you for them. They also want to book (or at least request) a reservation for your
bed and breakfast
immediately, and get an email confirmation right away.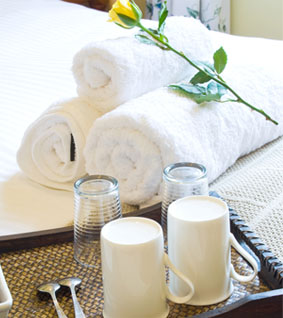 Great Prices!
Bookerville offers real-time, interactive availability and booking calendar systems for your
bed and breakfast management software
, and for a price that any B&B owner can afford: as little as
$549.99 per year.
That's less than
$46.00 per month!
Bookerville provides features that are popular among B&B establishments, like the ability to create custom special offers which are presented to the customer at booking time. Want to offer a bottle of wine and a dozen fresh roses as a value-added option for your guests? It's easy with Bookerville! Many B&Bs have complex rate schedules, and also collect surcharges for extra adults and children. Bookerville handles this with ease.
The Solution To Bed And Breakfast Management Software
No more juggling overlapping reservation requests, or having to get back to callers or emailers for availability and pricing. With Bookerville, all of that is handled automatically. And no other availability and booking calendar system is as easy for both you and your guests to use. Bookerville's
bed and breakfast management software
is 100% online, internet-based, with nothing to install. If you already have a website for your B&B, you can just place a link there to take visitors to your calendar. You can also embed the calendar right into your own website. It's easy, and we'll help you! Bookerville's
bed and breakfast management software
offers you:
| | |
| --- | --- |
| | Set your own check-in & check-out times |
| | Optionally enforce a variety of minimum stays throughout the year |
| | Separate surcharges for extra adults and children |
| | Optional "haggle" feature lets you adjust the total to a certain amount, and all taxes, discounts, rent, etc. are recalculated automatically |
| | Personalize the wording of the email notifications sent to guests |
| | Create your own custom special offers to enhance the vacation experience of your guests |
| | Unlimited commission-free online bookings |
| | Booking amounts (including pre-payments) can be collected into your own PayPal or Merchant account. You can also collect scheduled payments automatically! |
This 3:00 video will overview Bookerville's top features

Set Rates
in an instant!

Live Integration
with Your Website!

Set
Custom Colors
for your Calendars!
Affordable Bed And Breakfast Management Software
We offer special pricing for multi-room B&Bs, so check out the
Pricing
page (which has a simple calculator for you), or
contact us
for a quote. Bookerville can help you get a real-time availability and reservation request calendar setup quickly, easily, and affordably.
Member Name: Email Address:
Recording your newregistration...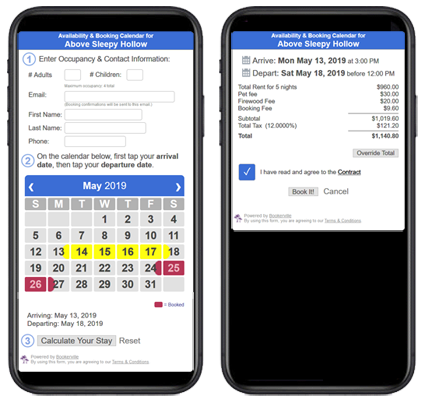 Bookerville's Availability and Reservation Calendar
Top Ten Reasons to Join Bookerville Now...
| | |
| --- | --- |
| 10 | Bookerville provides an online web-based vacation rental software solution available 24/7. |
| 9 | Bookerville does not collect big upfront fees to get started nor commissions on bookings. |
| 8 | Property Managers have complete control over booking fees, rental amounts, when guests pay and how much. |
| 7 | Property Managers can be competitive and offer convenience with online booking capabilities that travelers love and expect. |
| 6 | Bookerville has smart, customizable features giving Property Managers complete control over how they offer B&B rooms. |
| 5 | Allows guests to see your availability immediately and book your B&B with only a few clicks. |
| 4 | Bookerville lets you offer real time availability and instantly-confirmed bookings linked directly from your website. |
| 3 | Bookerville offers a free 30-day trial to see if you like it! |
| 2 | The most-flexible and easiest-to-use rate-setting tool in the business. |
| 1 | Bookerville is dedicated to providing quality, easy-to-use, convenient software for the B&B owner! |
Still can't decide? View the full
Software Features
or check out the
Booking Demo
.