Copying Settings From One Property to Other Properties
Replicating settings from one property to others is powerful and convenient.
Copying configuration settings from one property to any of the others is a powerful and convenient feature provided by Bookerville to help multi-property managers make settings in one property, and then replicate these settings to any or all of their other properties quickly and easily
This is best illustrated with an example. Let's say the tax rate changes in your rental area, and you need to update your Property Setup settings to reflect this. You can choose any one property to start with, and change the tax settings for it. After saving, click the "Copy Property Setup..." button in the upper-right area. This brings up a pop-up that allows you to check the boxes next to any of the Property Setup tab elements. For this example, you would check the box next to "Taxes". You can of course select more than one check box to replicate several settings at the same time.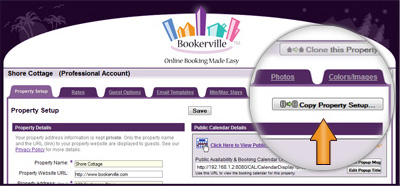 Look for the "Clone this Property" button in the Property Setup page
Then, in Step 2, check the boxes next to all the other properties that you want to copy the Taxes setting to. Note you can select (or deselect) all of them with a click of a button. When you have checked the properties you want to replicate this new Tax setting to, just click the "Copy" button at the bottom.
Done! So easy! The selected properties will now have the same Taxes settings as the one you copied from.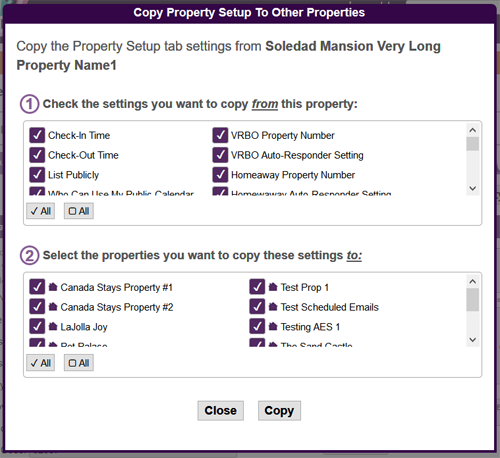 Similar "Copy..." buttons are available in the same spot in the Rates, Guest Options, Email Templates, Min/Max Stays, and Colors/Images tabs - each providing you the same powerful way of replicating these settings to any or all of your other properties. If you need any help using the Copy To Properties tools (or anything else), please just ask: support@bookerville.com.
Look for the Copy Property Setup button: