Second Home: Renting Out For Vacations
Is your vacation or second home sitting empty? Do you have trouble keeping up with requests from friends and family asking about your vacation or second home's availability?
Bookerville offers private, interactive availability and reservation calendars for second homes, vacation properties, condos, beach houses, ski chalets, A-frames, or any other facility that you want your friends and family to be able to book. Having a real-time, interactive, web-based availability calendar for your second home can make life a lot easier for you, because you can just send everyone you know a link to your calendar, and they can bookmark it and use it at any time to see when your vacation or second home is available. They can also use it to book themselves right on the calendar, and an email notice will be sent to you and to them. And since your Bookerville calendar updates itself, you don't have to do anything to keep your vacation or second home's availability up-to-date.
Control Who Can Reserve Dates For Your Second Home
Your Bookerville calendar can also be set up so that only the people you want can book themselves. Simply enter their email addresses into your Bookerville Allow List, and Bookerville will not allow anyone else but them to make reservation requests on the calendar for your second home.
The Solution To Second Home Availability Management
| | |
| --- | --- |
| | Set your own check-in & check-out times. |
| | Optionally enforce whole-week bookings (Sat. to Sat. or Sun. to Sun.) |
| | Personalize the wording of the email notifications sent to guests. |
| | Calendar can be completely private - no listings or promotions unless you want them. |
| | Allow Lists and Block Lists let you control who can use your calendar. |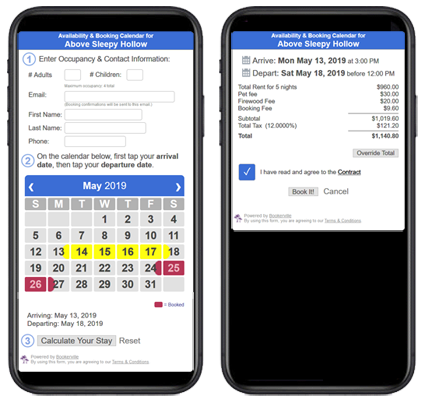 Affordable Second Home Availability Management
Whether your second home is a beach house, a mountain cottage, or a villa in the vinyard, Bookerville can help you get a real-time availability and reservation request calendar setup quickly, easily, and for as little as $725.99 per year. That's only $60.50 per month!