Vacation Rental Payment Schedules
Having a clearly-defined payment schedule can really smooth out your vacation rental operation.
Bookerville provides support for formal payment schedules, and uses these to determine what is due and when. Define Custom Payment Schedules: You can define as many scheduled payments as you like in your Dashboard ==> Account Settings tab. Each payment can be expressed as a flat amount or a percent of what is remaining, and each scheduled payment is set to be due "X" number of days prior to the check-in date. You can also define specific scheduled payments for security deposits.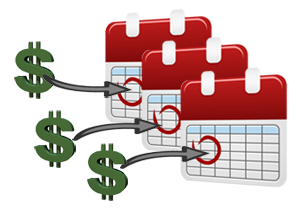 Automatically Generated:
Bookerville uses these settings to create actual scheduled payments for each booking - with real dates for each one, and this is used to determine what is due and when. This also enables optional automatic billing for payments due, and even past due notices when scheduled payments are not paid on time.
Override:
You can override the Payment Schedule for each property in your account, if you have specific needs. You can also override or re-generate specific payment schedules for each booking.
Communicate:
You can include an easy-to-read table of the payment schedule for each booking in your email templates, and even embed them right into your contracts:

Bookerville's sophisticated Payment Schedules feature sets us apart from most other vacation rental management systems. It is difficult to get software to automate this well, but we know how crucial it is, and how much value it adds to your vacation rental automation. Be sure to take full advantage of this powerful feature, and ask us for help if you need it.