Ranking Vacation Rental Guests
The ability to evaluate guests before doing business with them is powerful. Bookerville's Guest Ranking feature gives you a leg up.
Let's face it: every VR manager wants to avoid problem guests. From property damage, to excessive noise, to payment issues, some guests have a less-than-ideal reputation. Yet most guests have good manners and are respectful to rental properties. Either way, it's valuable to know something about potential guests before booking them. Bookerville's Guest Ranking feature addresses this need:
| | |
| --- | --- |
| | Rank your guests: build a history of details and average rank for future reference. |
| | See the average rank - across all of Bookerville - participate in the advantages of prior rankings even before you have your own history. |
| | Security Deposits: - if a security deposit has been retained from a guest, a padlock icon appears to alert you. You can see more details by clicking the rank numbers. |
| | Guest Rank data is kept private: only aggregate data is shown to other managers, and none of it is published publicly. |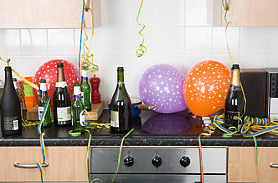 Click here to see the details of the
Guest Ranking Bar
Pay attention to the Guest Ranking when entering bookings and managing inquiries - watch out for low rankings, or the security deposit icon (padlock). Please also be sure to participate by ranking your guests after each booking completes, so that you - and the rest of the Bookerville community - may benefit.
Guest Ranking: another powerful tool in your Bookerville arsenal!