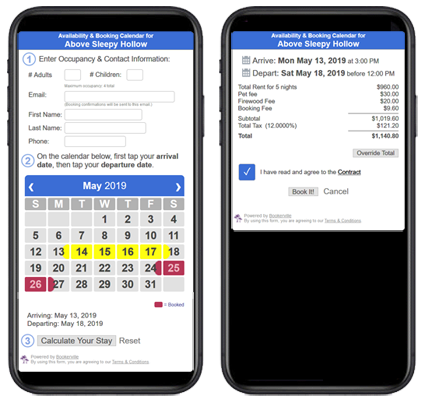 Online Booking System
Online Booking System - What Does It Mean?
"Online booking system" is a term that can be confusing in the vacation rental industry. Allow us to clarify what it means in the context of vacation rentals, and particularly in vacation rental software.
Guest-Centric: Letting Guests Book Themselves
At face-value, the term online booking system represents that part of vacation rental software that handles online booking. Online booking is generally regarded as the guests arriving at a web page, selecting dates they are interested in, agreeing to pricing and also possibly a terms and conditions page (or even a custom contract), and proceeding to make the booking official by blocking dates on your availability calendar. This is often accompanied by some kind of confirmation email that has language in it letting the guest know that the system has accepted their booking. This level of online booking is called "Guest-Centric" in Bookerville.
If this level of online booking is permitted, then it is usually coupled with some form of required initial payment (Bookerville refers to this as a "pre-payment"). This is a common and recommended practice, to prevent people from making casual commitments and then not following through; leaving your dates blocked and potentially turning away other interested customers.
Manager-Centric: Retaining Control
However, an online booking system does not have to provide online booking in this strictest sense. Many vacation rental managers do not want guests to be able to book online or block dates on their calendars, but instead prefer to communicate with each potential customer for a more personal, service-oriented approach. Bookerville handles this by offering "Manager-Centric" online booking. Guests can still see availability, and can even price out specific dates (if the manager chooses to allow this), but when the guest proceeds, the language changes, and the final result is a "booking request", not an actual booking. This still generates an email to the manager, and potentially to the guest, but again the language in this communication makes it clear that this is an online booking
request
, not an actual, confirmed booking. What's nice about this approach is that the manager and guests still get these benefits:

Direct, personal communication with the potential customer is preserved: the final decision about the booking remains the manager's discretion.

Data is entered by the guest, and retained by the software. The heavy lifting of entering information, calculating the rates, taxes, etc. is all handled automatically.

Booking Requests can be turned into real, confirmed bookings by the manager with the tap of a button. Little or no additional data need be entered.

Guests have a better sense of what they are inquiring, and a higher confidence that they will receive a timely response, than if they instead simply submitted an email or a superficial online form.
Note that even with this "Manager-Centric" approach, this is all still being performed online, so it can be considered "online booking". But the process is split up into stages, which preserves the ability for the manager to vet each inquiry, yet retains all the benefits of being automated online.
So What About the "System" Part?
Of course, online booking
system
implies that it is more than just a means of facilitating online booking. Once bookings are entered into an online database, options emerge for more advanced automation. Automatic confirmations, invoicing for subsequent payments, security deposits, and final arrival instructions to the guests can be handled by software that is configured to do these things on customizable, scheduled dates. Notifying cleaning crews with timely reminders, communicating with owners of managed properties, and integrating with popular listing sites are all features that are possible with an online booking system, as well as comprehensive reporting and exporting your data for use in tax filing, accounting, and more. Note also that both Guest-Centric and Manager-Centric methods provide a convenient, modern app for guests to use to see availability and select from only those dates which are open - eliminating dreaded
double-bookings
.
The Best Online Booking Systems
A good online booking system will offer a range of configurable settings to let vacation rental managers choose how they want to function, and specifically how they wish to handle online booking, inquiries, requests, and price-outs, without forcing them into modes of operation they are not comfortable with.
To experience how Bookerville enables this range of online booking system solutions, try it out for free with our no-obligation 30-day trial:
Bookerville Vacation Rental Software
---
See All Articles...