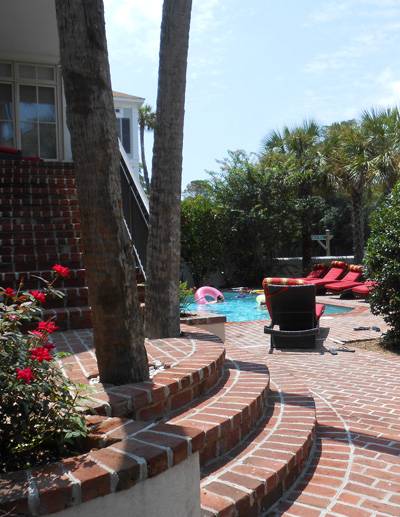 10 Knotts Way in Hilton Head, South Carolina
Ahhh, 10 Knotts Way in Hilton Head, SC. What a beautiful house! We stayed here recently, with two other families, and loved it! Honestly, it was probably the best rental we've stayed in. Evah. And here's why:
1) It was gorgeous. It was beautiful outside, it was beautiful inside. It had great landscaping, it was in a neat neighborhood, and on first impression, it was just stunning! The first area you enter is actually the garage, but holy-moley, that thing went on for years. It easily fit our three very large vehicles, and 14 rented bikes, plus beach gear, all within easy access.
2) It was appointed tastefully. It has stone or marble on all non-carpeted areas, a 2-story family room, a huge kitchen table for all of us to sit, and a large kitchen island that the 6 kids loved. The bedding was heavy, thick and high-quality. The laundry room was no where near the bedrooms - very nice.
3) Looking out onto the pool made you think you feel like you were in paradise. The red chaise lounges were perfect against the green foliage and palm trees. The pool was nice and clean and close to the house, and looking over the balcony at the kids playing was a favorite part of our trip.
4) It has nice conveniences. Like, upstairs near the upper bedrooms, there is a kitchenette, with a small table, chairs, cabinets, a small refrigerator and an ice maker. The extra large garage, the extra large bathrooms, and the many options for seating and relaxing were all appreciated.
5) It's in a great area! Hilton Head is fantastic. The bike paths are so cool. You can access them easily from the house, and the bike rental company delivered and picked up all 14 of our bikes free of charge. Each came with a basket and a lock (with the same combo code- somebody was thinking!) No need to have different codes; you'd never remember which bike had what code, esp for the kiddies. This was probably hands down one of our favorite things to do. After dinner we'd all hop on the bikes and ride down to the stores, shop around and get ice-cream. The kids thought they were pretty darn special (the bikes, and themselves. What kid doesn't love the independence you feel on a bike!)
All in all, this three-family party had a great time at 10 Knotts Way! We'd go back in a heart-beat!!
---
See All Articles...