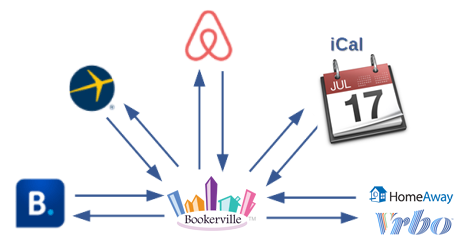 Integrating Bookerville With Major Listing Sites
Are your properties advertised on one or more major listing sites like AirBnB, Booking.com, Expedia, HomeAway/VRBO, etc.? Or do you want them to be? If so, then how can this be integrated with your Bookerville account?
There are two ways to achieve this:
iCal feeds
for simple availability sync, and
Channel Managers
for richer data integration. Let's explore each of these to understand the pros and cons and how these are achieved.
iCal Feeds
iCal feeds
are simple URLs (links) that can be used to publish booked dates for your properties. Each individually-rentable property has its own unique URL that contains the booked dates for it. Bookerville provides these URLs in your Property Setup page, in the upper-right area: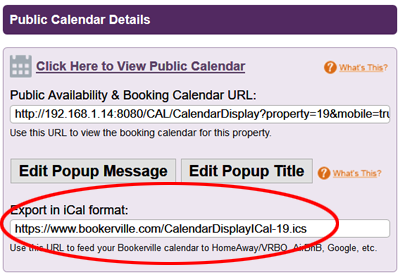 If you want to see what that URL does, just go copy it and paste it into a browser, and you can see it. Just about every major listing site, including AirBnB, Booking.com, HomeAway/VRBO, Expedia, and many others support iCal feeds. Somewhere in the dashboards of those listing sites there is a field where you can paste in an iCal feed URL, and this can be the one you can obtain from your Bookerville Property Setup page. Once you set this, that listing site will then start reading your blocked dates from Bookerville and block the same dates in the availability calendar for that listing site.
Similarly, each listing site provides an iCal feed for the booked dates on that listing site. You can obtain this, copy the URL they provide, and paste it into the appropriate field in your Bookerville Property Setup page. When you do this, Bookerville begins reading that iCal feed a few times per day, creating bookings in your Bookerville calendar to block the dates.
In this way, you can achieve two-way availability calendar sync. For each listing site you want to do this with, there are two URLs that must be obtained and placed in the respective dashboards: one for Bookerville and one for the listing site.
iCal Feed Pros
The pros of using iCal feeds are mostly just that they are free, and comparatively easy to set up. Setting up iCal feeds is basically just a matter of copying & pasting a couple of links. They are free to use (or at least Bookerville does not charge anything more to use them). They will sync availability dates in both directions (that is, from Bookerville to each listing site, and from each listing site to Bookerville), saving you the time and tedium of having to go into each separate dashboard and update availability every time a booking occurs from any source.
iCal Feed Cons
There are several downsides to iCal feeds:
1)
They are not real-time: Bookerville only reads external iCal feeds about three times a day, and most listing sites only read external iCal feeds about four times a day. This leaves plenty of time for double-bookings to occur in between updates, where availability may not be synchronized. The higher your booking volume is, the more likely iCal feeds are going to permit a double booking.
2)
They are also not
transactional
. Even though iCal feeds are not real-time, if they were transactional, each booking source would check the other various iCal feeds before accepting a booking from a guest, making sure that the dates are available at that very moment. But none of the listing sites do this.
3)
Simple booking dates only: guest information (aside from the occasional abbreviated name) does not convey on iCal feeds, and neither do any of the amounts. So you still have to go to the source dashboard and copy the information from there and paste it into the Booking Details page in Bookerville.
4)
Property data is not fed through iCal feeds either. So using iCal feeds will not distribute your property features/amenities, rates, taxes, photos, etc. to the various listing sites.
5)
Reliability: some listing sites do a poor job of supporting their iCal feeds. Some of them mysteriously do not include bookings that clearly should be on the feed. Other times bookings that once appeared on their iCal feed suddenly stop appearing on the feed, and Bookerville is reluctant to delete these because very often the booking is not cancelled, but is simply dropped from the listing site's iCal feed due to a glitch. So iCal feeds, while generally saving you a lot of time and tedium, do require some manual research and manipulation to keep everything working as you expect.
Despite these deficiencies, many property managers use simple iCal feeds to fulfill their needs and have been for many years, and so they may work very well for you. Some property managers have one or more employees that, among other things, routinely go into each dashboard of all their various listing sites and manually copy/paste guest info. and amounts into their Bookerville dashboard, and so the iCal feeds are sufficient for them. Your mileage may vary.
Channel Managers
Channel Managers are 3rd-party groups that have gone to the trouble and great expense of building rich, sophisticated data integrations with all of the major listing sites (and also several dozen smaller ones, and that list is more-or-less constantly growing). They provide full property data sync, and also real-time (and transactional) booking support, all but eliminating double-bookings.
Channel Manager Pros
Channel Managers can take your property data, including features/amenities, rates, taxes, photos, minimum-stay requirements, occupancy, beds & bedrooms, bathrooms, etc. from Bookerville and automatically list them with listing sites. You can pick and choose which listing sites you want to work with. They also update changes to your property data, and this includes the all-important rates, which most managers update at least quarterly, if not monthly or even more frequently. You update your rates once in Bookerville, using our highly-acclaimed and super easy-to-use graphical rate-setting tool, and the Channel Manager will then read those rates and automatically push them to your listing sites. This is a huge time-saver for most managers, and we have some using a Channel Manager for this feature alone.
In addition to property data being synchronized across all your listing sites, Channel Managers also make the bookings appear in your Bookerville dashboard. This is done in real-time and transactionally, all but eliminating double-bookings. Bookerville becomes your true master calendar, and when bookings are attempted on listing sites, the availability in Bookerville is checked first, and the booking is denied if any of the dates overlap existing bookings.
Bookings also arrive complete with guest info. (especially the all-important email address and phone numbers), and also the booking amounts, so that you don't have to go into each dashboard and copy/paste that data. It's all right there in your Bookerville dashboard, ready to be managed, automated, reported on with all the Bookerville tools you can't live without.
Net Rates
Channel Managers also support the concept of
Net Rates
, which enables you to automatically set higher or lower rates for each listing site, to help offset the commissions they charge.
Channel Manager Cons
So there's a lot to love about using a Channel Manager, but what are the downsides? There are two things to consider:
1)
Channel Managers charge fees for their service. After reading all the pros about what Channel Managers have achieved, hopefully you can imagine the enormous cost of building and maintaining all of those integrations. Channel Managers charge subscription fees and/or per-booking commissions that are above and beyond what Bookerville charges. The good news is that you can use the
Net Rates
feature to offset those additional costs.
2)
Channel Managers can take a good bit to get set up and running initially. They are a separate group that you must engage and set up a separate contract with, and then it can take a few weeks to get all your properties successfully implemented on the various listing sites. So if you go the Channel Manager route, prepare yourself: it's much more involving than simple iCal feeds.
Does Bookerville Have a Channel Manager Built-In?
Yes, Bookerville now has its own, native Channel Manager built-in. It's next-gen features are better than most existing Channel Managers at this point, and it's also probably less expensive.
Learn more:
Bookerville ChannelConnector
Which Integration Route Is Best For Me?
It's impossible for us to know which route - iCal feeds or a Channel Manager - is going to end up being the best for you to integrate your Bookerville account with listing sites. Hopefully we have provided here the major pros and cons you need in order to do your own research, weigh the costs and benefits of each, and decide. Of course we are here to answer further questions you may have, and so are the staffs of the Channel Managers.
More Material
Bookerville iCal Feeds
Other iCal Feed Uses
Bookerville and AirBnB's iCal Feeds
Bookerville and HomeAway/VRBO's iCal Feeds
Bookerville strongly recommends using our new internal
ChannelConnector
. But if you are already using one of these, then Bookerville also integrates with them:
Rentals United
BookingPal
---
See All Articles...