Multi-Property Availability Search Tool
March 18, 2023, by
John Amato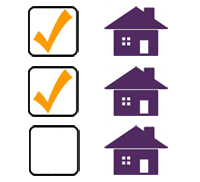 Bookerville's Multi-Property Availability Search Tool Updated
Bookerville's popular and useful Multi-Property Search tool has been updated with new features.
Email Results to Prospects
You can now easily hand-pick from the results, and effortlessly send them in an email to your prospects. Just check the boxes next to the ones you think are the best fits for your prospect, and click to send those in an email to them. The email they receive looks and works just like the results you see on your screen, with photos and buttons to explore more or jump right into booking (or requesting).
More Customizable
We've also made the tool (which is also a "widget" you can share & publish on your website) more customizable.
Set your own accent color to match, put your custom header banner image at the top, and also control which features & amenities appear in the expanded filter. Whole sections can now be removed, and also individual options within each section can be omitted, if you want to focus on just the few that you think will matter most to your audience.
Multi-Property Search Video Demo
Watch this video to see how powerful and intuitive this is:
Multi-Property Search Video
Reply »
Recent Posts:
---
Monthly Archives:
---
Categories: