Owner Contracts
November 22, 2022, by
John Amato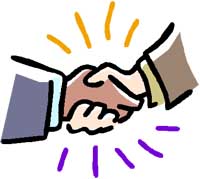 Do you have your vacation rental owners sign annual (or other) contracts for your property management service? Would you like those contracts, their history and their electronic signing process to be automated seamlessly into your PMS dashboard?
Bookerville has developed a new feature that enables you to create your own custom owner contract templates - these can be unique per property - and send the owners a link to digitally enter the data (custom, whatever data you choose to require) and sign them. You get notified by email when they complete their signing, and the owner is then notified when you sign it. The history of these contracts is made available to you and your owners for posterity, downloading, printing, etc.
Customized
The contracts can be 100% customized: you probably already have one that you've been using, either on paper or elsewhere electronically (PDF, Docusign, etc.). We can help you set these up with proper formatting, and your pre-populated information, and also custom fields you want your owners to enter.
We have added a new template in the Property Setup page >> Emails & Templates tab, look for the button called "Owner Contract". It is here you would enter your contract text, and it is here you would likely require our assistance, which we are happy to provide.
Custom Questions, Owner-Options, Data Collection
The contract template can contain optional fields - text, dates, and simple yes/no check boxes - that are associated with questions or info. you need from the owner about the new contract period. Asking them to choose their open and off season dates, whether they would like winterization/spring cleaning, or open-ended questions like what work they plan to do to the home for the next year, etc.
Bookerville will make each of these required before the owner can sign the contract, and the answers are retained and made available to you for reporting, so that you can organize and keep track of which properties are participating in certain activities, options, etc.
Multiple Owners per Property
Our new feature supports multiple owners per property. Set these up as "sub-users" in your Dashboard >> Account Settings tab, in the Members With Permissions box. Make sure the "Owner" box is checked, this is how Bookerville determines which person is an owner, and pulls their contact info. into the contract.
Digital Signing
Their full name, date, and SSN (or EIN / ITIN) is required for them to sign the contracts, and this is stored and presented. Sensitive data is encrypted and stored securely.
Emailing Owners to Sign
You can create new contracts, and then send owners an email alerting them to go sign it. This is done in the new Owner Contracts Management page, which you can get to in your Dashboard >> Account Settings tab at the bottom.
Reply »
Recent Posts:
---
Monthly Archives:
---
Categories: