Blog Category: Tips and Tricks

Bookerville Reads Your VRBO iCal Feed
April 17, 2016, by
John Amato
You can have Bookerville read your VRBO iCal feed. Go to your Bookerville Property Setup page, and scroll down until you see the "APIs, Calendar Sync, and Integration" section: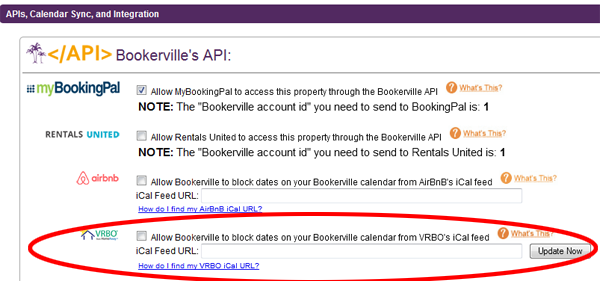 Look for the check box to "Allow Bookerville to block dates on your Bookerville calendar from VRBO's iCal feed". Be sure to check the box.
Next you need to find your VRBO iCal feed URL. To find your VRBO iCal feed URL, read VRBO's instructions on it. Look at the "Import external calendar" section of this page:
Finding Your VRBO iCal Export URL
. Copy the URL (Ctrl-C) and paste it (Ctrl-V) into the field in your Bookerville Property Setup page.
That's it - Bookerville will begin reading your VRBO calendar and importing blocked dates from it into your Bookerville calendar. Some notes:
1)
Be sure to read the "What's This" next to it for important details.
2)
Bookerville currently reads external iCal feeds
once per night
(2:30 am Eastern Time).
3)
As of March 16, 2016, Bookerville is no longer removing bookings from your Bookerville calendar simply because those bookings don't appear on an external iCal feed. Instead, Bookerville sends an email to you notifying you of the booking that seems to be missing from the external iCal feed, so that you can investigate and remove it manually if needed. This is due to the unreliability of certain external iCal feeds.
Also note: Only dates (and usually at least an abbreviated guest name) will be brought over into your Bookerville calendar from an external iCal feed, because that is all the other systems usually provide. If you want richer data integration with listing sites, consider using one of Bookerville's Channel Managers:
BookingPal:
BookingPal Channel Manager
Rentals United:
Rentals United Channel Manager
Reply »
Recent Posts:
---
Monthly Archives:
---
Categories:
---

Net Rates
June 15, 2015, by
John Amato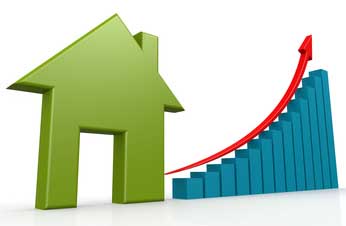 What Are Net Rates?
The concept of Net Rates comes into play when using a Channel Manager that supports them. It's pretty simple: you enter your normal rates in Bookerville, then specify in the Channel Manager dashboard that you want to use Net Rates. The Channel Partner will then only fetch bookings for your property if it can get a high enough rate to cover the commission.
An Example
Let's say your rate for a particular week is $100 per night, and you've specified Net Rates with the Channel Manager. If the commission (which varies from channel to channel) is, say 10%, then the Channel Manager will effectively market your property with a rate of $110.
Where It Can Get Tricky
The trickiest part is when a booking involves Guest Options, or other fees that are based on the rent figure. A good Channel Manager will re-calculate these to reflect the higher rent that they are based on.
Removes Risk
Net Rates takes the risk out of trying any number of marketing channels, even those with very high commissions, since the cost of those commissions are ultimately shouldered by the guests. If the property doesn't gather much interest, it could be that the rates are too high. But it also could mean that the commission is too high. Remember: if your property doesn't sell, it doesn't just hurt you, it also hurts the marketing channel. So an under-performing property may force the marketing channel to consider lowering their commission, even on a property-by-property basis.
How Do I Get Started?
Bookerville has partnered with two Channel Managers:
BookingPal
, and
Rentals United
. Both of these vacation rental channel managers boasts integrations with dozens of listing sites, including AirBnB, HomeAway/VRBO, FlipKey, Booking.com, TripAdvisor, Expedia, and many more. Channel Managers will let you choose which channels you want to use, and this can be done seasonally: only use marketing channels when you need them, perhaps in your low season. Both Channel Managers also support Net Rates. Click here for more information, and also to submit a short form to request them to contact you:
BookingPal
Rentals United
2 Responses:

John Amato
, July 12, 2016:
Hi Luray Caverns. Please submit this very simple form, and they will get in touch with you:
BookingPal
Reply »
---

Homeaway, VRBO, and Auto-Responders
September 19, 2014, by
John Amato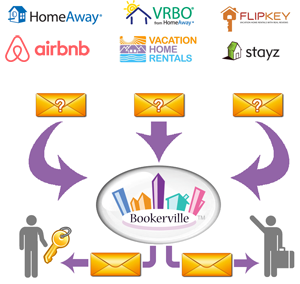 What's an Auto-Responder?
Before we get into the good news, let's briefly review what Bookerville's Auto-Responder is. Whenever you get an inquiry from a listing site (such as Homeaway, VRBO, FlipKey, AirBnB, etc.) they usually send an email to you with the details. You can automatically forward a copy of these emails to a special email address at Bookerville, and Bookerville will read those emails, obtain the information in them, and potentially automatically generate replies to the guests with quotes, links to book, see your other properties, or make online booking requests. This is configurable, and there are lots of options on how to run it. At a minimum, Bookerville records all these inquiries and presents them to you for easy administering in a convenient lead-management tool in your Dashboard » At-A-Glance tab. You can learn more about our highly-acclaimed
Auto-Responder
and what it can do for you.
Homeaway and VRBO Lead Management
About a year ago (2013), Homeaway and VRBO started hiding the guests' email addresses from these inquiry emails that they send to you. Because of this, Bookerville would be unable to automatically reply to the guest. This could also create a lot of back & forth in terms of data entry between your Homeaway/VRBO account and Bookerville. Suffice to say, most property managers were outraged by this. But there appears to be good news...
Tell Them You're Using an Auto-Responder
Our recent experience with our customers has revealed that Homeaway's policies provide for a workaround: if you explain to them that you are using an Auto-Responder, they will put the guest email addresses back into your inquiry emails. We've seen them do this for several of our customers, large and small. So it's certainly worth reaching out to your account representative to ask about this, as it appears they are willing to cooperate.
Calendar Synchronizing, and More
And while you have their attention, it's certainly also worth telling them that you want them to open up their API's to Bookerville so that we can integrate availability data, keeping your calendars synchronized automatically. AirBnB, FlipKey, and many other listing sites already do this using our
iCal export feature
, so it's about time Homeaway and VRBO make your life as easy as those other listing sites do, right?
Reply »
---

Synchronizing Calendars with AirBnB
January 20, 2014, by
John Amato
To synchronize your AirBnB calendar with your Bookerville calendar, you can use Bookerville's iCal export feature. Here's how:
Within AirBnB go to Manage Listing and choose Calendar and Pricing: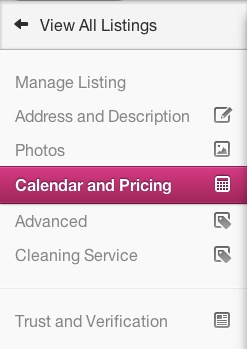 Scroll down to the bottom of the page to get to the Calendar Sync, and choose Edit/View details (it might say add/import if you have never done this before):

Import a new calendar:

Choose the listing:

and the calendar source: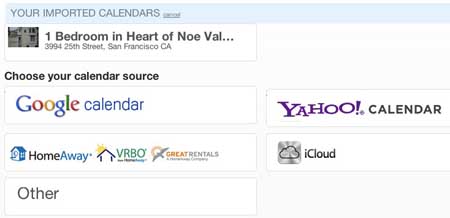 Choose Other: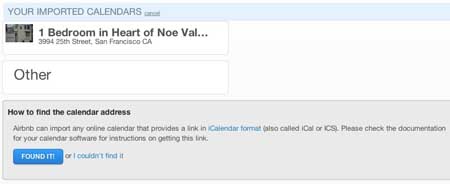 Find your iCal export URL in Bookerville (property setup page, purple box in the upper-right), and copy it into the place on AirBnB after clicking "Found it":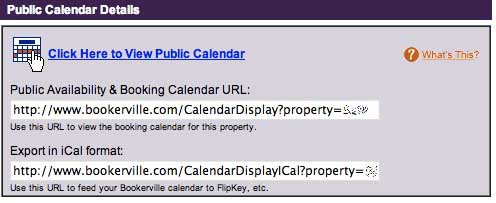 Note:
don't try to enter in the above example URL. You need to use your own, located in your Property Setup page. Ask for help if you need it.
Done! It will sync periodically or you can choose a sync now option.
Bookerville would like to express many thanks to member Penelope ("noeflat") for providing this to help others. Well done Penelope, thank you!
If you have any questions, just contact us.
Reply »