Homeaway, VRBO, and Auto-Responders
September 19, 2014, by
John Amato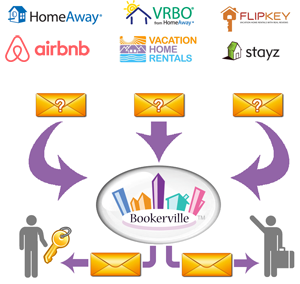 What's an Auto-Responder?
Before we get into the good news, let's briefly review what Bookerville's Auto-Responder is. Whenever you get an inquiry from a listing site (such as Homeaway, VRBO, FlipKey, AirBnB, etc.) they usually send an email to you with the details. You can automatically forward a copy of these emails to a special email address at Bookerville, and Bookerville will read those emails, obtain the information in them, and potentially automatically generate replies to the guests with quotes, links to book, see your other properties, or make online booking requests. This is configurable, and there are lots of options on how to run it. At a minimum, Bookerville records all these inquiries and presents them to you for easy administering in a convenient lead-management tool in your Dashboard » At-A-Glance tab. You can learn more about our highly-acclaimed
Auto-Responder
and what it can do for you.
Homeaway and VRBO Lead Management
About a year ago (2013), Homeaway and VRBO started hiding the guests' email addresses from these inquiry emails that they send to you. Because of this, Bookerville would be unable to automatically reply to the guest. This could also create a lot of back & forth in terms of data entry between your Homeaway/VRBO account and Bookerville. Suffice to say, most property managers were outraged by this. But there appears to be good news...
Tell Them You're Using an Auto-Responder
Our recent experience with our customers has revealed that Homeaway's policies provide for a workaround: if you explain to them that you are using an Auto-Responder, they will put the guest email addresses back into your inquiry emails. We've seen them do this for several of our customers, large and small. So it's certainly worth reaching out to your account representative to ask about this, as it appears they are willing to cooperate.
Calendar Synchronizing, and More
And while you have their attention, it's certainly also worth telling them that you want them to open up their API's to Bookerville so that we can integrate availability data, keeping your calendars synchronized automatically. AirBnB, FlipKey, and many other listing sites already do this using our
iCal export feature
, so it's about time Homeaway and VRBO make your life as easy as those other listing sites do, right?
Reply »
Recent Posts:
---
Monthly Archives:
---
Categories: