AU Dollars only please-I had to reimburse the difference!
July 8, 2014, by
Ruth
Hi John please

I've had an Australian customer book recently through the new system and they paid in US dollars tho in my Bookerville dashboard all says AU dollars? I had to reimburse them and it cost me extra in Paypal fees. Id like to only deal in Australian dollars please lest I confuse myself and my customers.
How can I ensure Bookerville only charges Au dollars please?
Thanks so much, the auto responders are brilliant. Warm regards Ruth
3 Responses:

John Amato
, July 8, 2014:
Hi Ruth - first, make sure your PayPal account is set up to handle Australian Dollars, and if that's the currency you want to deal in, you should set it as the 'default currency' in your PayPal account. They will be able to help you with that, if it isn't already set up that way (and it may be).
Next, go into the Property Setup page of your Bookerville account, and scroll down until you see the "Fees and Charges" section:
Click the "Change Currency" link (circled), and then select Australian Dollars. Be sure to save the property after this. Also, be sure to make the same setting in your other properties, or copy it using the Copy Property Setup button at the upper-right area of the Property Setup page: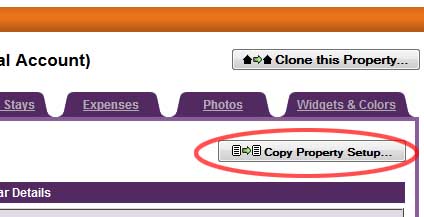 That should do it Ruth, but let us know if you need help, Ok?

Ruth
, July 10, 2014:
Thank you John, I

have managed to do this thank you so much, I wonder what else I've overlooked in here yikes! Ruth
Reply »
Recent Posts:
---
Monthly Archives:
---
Categories: