Vacation Rental Guest Reviews: Relevant!
September 2, 2014, by
John Amato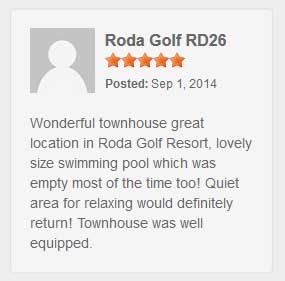 Consumer Review Origins
If you need someone to blame, you can probably blame it on eBay. They are the ones who really started it, being the first apex-grade internet site to embrace consumer reviews in a major way.
Soon after, it was Amazon, who really brought reviews to the forefront of American consumerism. And once Amazon proved it worked, virtually everyone followed. Now, every online retailer that matters offers consumer reviews. Personally, I live by them; I don't make any significant purchases without looking at the reviews. And if the product doesn't have any? I pretty much just walk away. It's been a decidedly good thing for products, keeping producers and retailers alike from peddling sub-par merchandise.
And what's good for phones, TVs, and books should also be good for vacation rentals, right?
Pros and Cons
That's certainly the stance of the major listing sites, as they all actively solicit guest reviews by email a few days after the guest checks out. Some property managers protest, mostly out of fear of poor reports. However, sites like VRBO, FlipKey, and others do some amount of vetting of these reviews, and most of them offer the property manager at least one rebuttal comment, in which they can refute or counter the guest's claims, providing a balanced picture by displaying both sides of the story.
But the reality is that most reviews are favorable. Bookerville's own experience has shown an average guest review rating of 4.3 stars (out of 5), and most of the comments are glowing. Even the occasional "poor" review can often serve to enlighten guests about an aspect of the rental they may not have considered without it. If a reviewer complains about a loud, rowdy party next-door to them, that may turn off some family-oriented travelers. But it may be a lure for those looking for a more exciting experience.
Moreover, the occasional bad review, especially if it is in contrast to several other positive reviews for the rental, will usually be overlooked or deemed a rant by prospects reading them. When I see a listing with nothing but perfect reviews, I admit that it makes me a bit skeptical of their validity.
Feedback is Feedback
Glowing reviews are obviously the ultimate goal: nothing screams "pick me!" like a couple dozen 5-star ratings. But negative feedback is valuable too. No one ever improves if all they hear is what they're doing
right
. To achieve 5-star status, most things require improvement, and not just once, but
constant improvement
over time. The fastest way to learn what you're missing, or the deficiencies your rental may have, is to hear it straight from the experiences of your guests.
The Guest Review Genie is Not Going Back in the Bottle
Let's face it: consumer reviews are here to stay, and increasingly, prospects are likely to walk away if you aren't even collecting them. In fact, it could be worse to not collect and display guest reviews than to have a couple of less-than-favorable reports mixed in with the rest. By participating, you are telling the world that you are standing by what you're offering, and that alone speaks volumes about what kind of property manager you are.
Bookerville's guest reviews are also available to post on your own website (or elsewhere), using a new addition to our
Widgets
, and there is also a full report you can run to view, print, or export all your reviews. So your benefit is multiplied!
1 Responses:

John Amato
, October 28, 2014:
Reply »
Recent Posts:
---
Monthly Archives:
---
Categories: