Guest Services Mobile App!
January 15, 2016, by
John Amato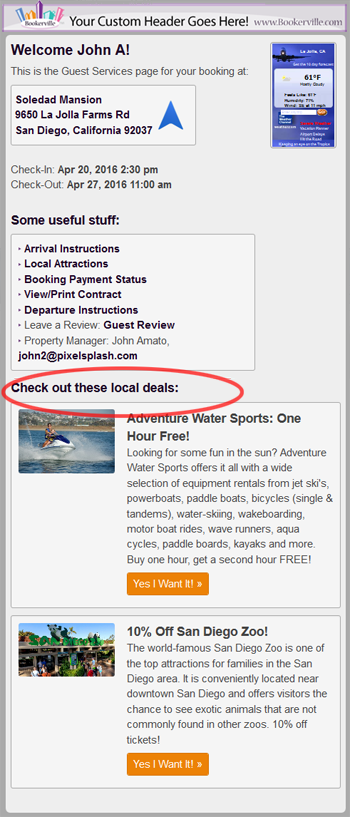 Give your guests everything they need to maximize their vacation, right on their phone! Bookerville's new Guest Services mobile app is the perfect way to provide your guests instant access to everything they will need or want. It can also save you time by answering their questions without calling or emailing you. And - you could even earn commission on tourist sales by providing your own affiliate links!
What's In It?
The Bookerville Guest Services app. provides the following (when applicable, per your settings):

Your custom Arrival Instructions.

Property address - and with a tap of the button, their phone's navigation app starts and guides them to it!

Local weather - so they can see what to expect when they arrive.

Check-in, check-out dates and times.

Local Attractions - as you've entered them in your Features & Amenities.

Payment Status - lets them know where the booking stands and they can remit payments right on their phone.

View the contract.

Your custom Departure Instructions.

Link to leave a review.

Your contact info. (phone and email address).
Nothing to Download
Unlike Glad to Have You and other concierge-oriented apps, the Bookerville Guest Services mobile app is already available on any smart phone. And there's nothing to install or download - no "permissions" or terms and conditions needed to use it. You can provide a simple link for them to click right inside your Email Templates. Perfect for the Arrival Instructions email!
Customize With Your Special Deals!
Perhaps the most exciting part is that you can set up your own special deals/offers. Each of these can have a photo, title, description, and link to local tourist attractions. Golf courses, restaurants, theme parks, water sports - anything you want to offer. The links can be your own Affiliate Links, which can lead to commissions for you when guests click them.
How Do I Use It?
Simply place this (or something like it) into any of your Email Templates:
Here's a link to a handy page for your phone; it includes directions, local information, and special deals to help you get the most out of your stay: [URL=[GUEST SERVICES PAGE LINK]]Guest Services[/URL]
The best place to put it is probably in your Arrival Instructions Email Template, and schedule it to be sent just a few days prior to the arrival date, using Bookerville's much-loved
Automatic Scheduled Emails
. Note that depending on how new your Bookerville account is, this verbiage might already be in one or more of your Email Templates.
Need Help?
As always: just ask. We can also help you set up your own special deals or offers so that they appear in the Guest Services app.
Reply »
Recent Posts:
---
Monthly Archives:
---
Categories: