How Can an Availability Calendar Streamline Your Rental Operations?
March 18, 2014, by
John Amato
How Can an Availability Calendar Streamline Your Rental Operations?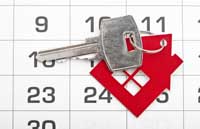 Renting out your vacation property is a great way to make extra money and can become a serious investment or a full time business for some owners. But handling the day-to-day activities revolving around booking your property can be a real hassle. Trying to take bookings by hand is a serious commitment of time and resources. Many times it's more than property owners bargained for.
Solution to the Property Management Conundrum
Availability calendars offer a great solution for single or multi-property vacation rental managers and owners. It allows your guests to book their vacations directly with you or your website.
Benefits of Using Availability Calendars:

Prevent overbooking

Easily embed into a website or social network

Provide a direct means for owners to handle their own properties and avoid paying commissions

Work with PayPal or credit card payments

Allows for bookings 24/7

No personal involvement from the property owner or manager to book rentals (unless you want it)

Affordable
Availability calendars automate the reservation process, freeing up valuable management time for other tasks. The service is affordable and far outweighs the hourly cost of manual bookings and paying someone to man your phone.
Availability Calendars Put You in Control
Using an automated calendar for bookings allows you to accept fees online, automatically calculate rent, taxes, fees, and discounts. You get to choose when your private rentals are available and you are in control of who can book. With the ease of use in most systems, creating an online calendar for your properties averages less than 10 minutes and gives you a hands off means of managing the rental process.
---
About the Author
John Amato is the founder of Bookerville LLC, and has been heavily involved in the vacation rental industry for over five years.
About Bookerville
Bookerville Vacation Rental Software easily and inexpensively manages 1 to 1000's of properties. Over $40 million dollars worth of rental bookings have been completed through Bookerville. The company offers a free 30-day trial of its vacation rental software. Have questions or want more information? Contact John Amato at Bookerville today.
Reply »
Recent Posts:
---
Monthly Archives:
---
Categories: