Custom Colors on Master Calendar
November 22, 2013, by
John Amato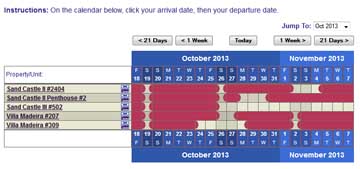 Good news! Your Public Master Calendar now honors the custom colors you set for the properties in your account. Now this slick, interactive, super-useful widget that you embed into your own web pages can look like it belongs there, using custom banner and text colors to perfectly match the rest of your site. This is another avenue in which Bookerville provides you with the ability to brand your own business, with near-white-label widgets.
This calendar also can be sized as narrow as 7 days, or as wide as 31, to accommodate a variety of formats, and mobile versions of your pages.
As always, if you need any help with this, including changing colors or embedding into your own site, just let us know.
Reply »
Recent Posts:
---
Monthly Archives:
---
Categories: