Top 10 Things to Look for in Online Rental Software
April 3, 2014, by
John Amato
Top 10 Things to Look for in Online Rental Software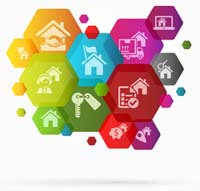 Whether you're renting short term vacation properties or long term apartments and houses, being a property manager sometimes feels like being a juggler in a circus. There is a never-ending barrage of tasks to be coordinated to make a rental a successful experience for your customer and profitable for you. Trying to manually keep track of all the individual tasks involved in renting a single property, let alone multiple properties, can prove to be inefficient and lead to lost hours of productivity.
Online Rental Software for Efficiency's Sake
Online rental software offers property managers of all sizes the ability to streamline their booking and management processes by organizing property and client information in one accessible place, while automating repetitive tasks. Even property managers with one or two rental properties can find value in automating, while not spending large amounts of money in the process.
What to Look for in Online Rental Software
So how do you know which features your software system should have? Here are the top 10 features to look for in Online Rental Software:

1. Interactive, real-time availability calendars (even if you don't plan on publishing these)

2. Interactive booking calendars that automate the booking (or inquiry) process

3. Booking calendars that embed directly into your website (preferably ones you can customize to match the look and feel of your site)

4. Multi-property search functionality - search for availability by dates

5. Booking calendars that update in real-time and automatically synchronize with the master calendar

6. Ability to customize your fees, deposits, taxes, additional charges, discounts, and payment schedules

7. Built-in, customizable email templates and automated email scheduling to send confirmations, follow-ups, reminders, instructions, thank-you's, etc.

8. Ability to run offers, promotions, and special deals

9. Ability to set comprehensive and custom minimum stay requirements

10. Collect guest and prospective guest data and provides an easy way to download this information for your own use

Online rental software can range from $100 to $1000's per year, depending on the number of properties being managed. Most companies will offer a 30 day free trial to give property managers the opportunity to test drive a system before they purchase. The amount of time saved in automating repetitive, manual tasks makes the investment well worth the few dollars per month per property that it will cost. Then you can sit back and consider where you'll spend all that free time you now have.
---
About the Author
John Amato is the founder of Bookerville LLC, and has been heavily involved in the vacation rental industry for over five years.
About Bookerville
Bookerville Vacation Rental Software easily and inexpensively manages 1 to 1000's of properties. Over $40 million dollars worth of rental bookings have been completed through Bookerville. The company offers a free 30-day trial of its vacation rental software. Have questions or want more information? Contact John Amato at Bookerville today.
Reply »
Recent Posts:
---
Monthly Archives:
---
Categories: