Top 5 Ways Online Booking System Can Save You Money
March 27, 2014, by
John Amato
Top 5 Ways an Online Booking System Can Save You Money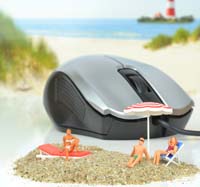 Whether you're a property manager of vacation rentals or a B&B owner, you know better than anyone how tedious and time consuming manual bookings for your properties can be. From all the communications back and forth with potential guests to the reminders and directions for confirmed guests, it seems to be a never-ending list of calls, emails, and tasks related to the actual set up of the rental.
Online Booking Systems – Best All Around Value
Full-featured rental software systems can be expensive, but paying a service to book your properties for you means commissions and fees. A perfect alternative is online booking systems.
Top 5 Ways You Can Save Money with an Online Booking System:

1. No more lost sales - gives real time information about the rental to potential guests and allows them to book on the spot (if you want)

2. Keeps you organized - integrated information about all your bookings in one place

3. Integrates with your website so you can capture finished sales right on your site

4. Operates 24/7 without you (you don't have to answer the phone)

5. Automatically calculates all fees, taxes, and additional charges when the guest books

The learning curve to use online booking systems is not a huge one, so you can expect to be up and running in a limited amount of time. When you use a booking system that offers cloning of calendars, it cuts the set up time of properties even further by allowing you to copy the most important information from one property to another.
One of the most important considerations in choosing to use an automated online booking system is figuring how much your own time is worth. What is your hourly rate to answer the phone, send emails, answer guest questions, and calculate and charge the booking fees? When these repetitive tasks are being done by an automated system and you don't have to do them yourself or pay someone else to do them, you are easily covering the cost of the software and saving a substantial amount of payroll in the process.
---
About the Author
John Amato is the founder of Bookerville LLC, and has been heavily involved in the vacation rental industry for over five years.
About Bookerville
Bookerville Vacation Rental Software easily and inexpensively manages 1 to 1000's of properties. Over $40 million dollars worth of rental bookings have been completed through Bookerville. The company offers a free 30-day trial of its vacation rental software. Have questions or want more information? Contact John Amato at Bookerville today.
Reply »
Recent Posts:
---
Monthly Archives:
---
Categories: