At-A-Glance Tab Updates
May 2, 2016, by
John Amato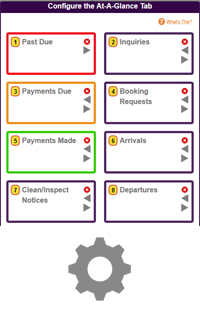 If you haven't noticed yet, there are some new changes to your Dashboard >> At-A-Glance tab. The first thing we did (and this was a while ago) was we made that page "responsive", so that it has a more useful appearance on small screens (phones).
This tab started out with just a few boxes, but has grown a lot over the years. And recently, we've received a lot of feedback that it is "busy", overwhelming, and difficult to zero-in on the data you need to see.
So the recent changes are an effort to alleviate that. Here's what's new:
1) You can turn off boxes that you don't care about or aren't using.
2) You can change the colors of the title bars, to help your eye be drawn to the data you are looking for.
3) You can also re-arrange the positions of the boxes.
What are your thoughts? As always, we welcome all (constructive) feedback.
Thanks!
Reply »
Recent Posts:
---
Monthly Archives:
---
Categories: