Automatic Scheduled Emails
February 2, 2012, by
John Amato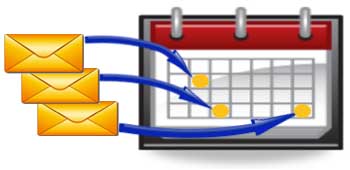 Update 2014-02-04:
This is the original forum topic started asking for the feature of automatic scheduled emails, and preserves the discussion of how the feature should operate. If you are looking for an introduction to the now stable Automatic Scheduled Emails feature go here:
Automatic Scheduled Emails
It's time to open a discussion and start documenting the requirements for this high-demand feature. Automatic Schedules Emails are emails that will go out automatically for things like payment due notices, check-in instructions, etc. Please help us with your thoughts and ideas.
High-level questions:
Does Bookerville just automatically send these emails straight to the guest? Of course, it should copy the account owner, but actually this is configurable in the Email Template. Or should Bookerville send these to the manager, and let the manager check it out first, then forward it themselves to the guest?
Some examples of emails managers would like to see automatically sent by Bookerville:

Send check-in/check-out instructions some number of days prior to check-in date.

Send some kind of thank-you type email some number of days after check-out date.

Send payment reminder email some number of days prior to a payment that is due, but not yet paid.

Send past-due email some number of days after a payment was due, but not yet paid.
Should the "payment reminders" and/or "past due" notices be configurable (Email Templates), or should Bookerville maintain these as a standard?
Member
aecchalet
added:

Check-out instruction and feed back solicitation prior to check out.

Reminder to owner to refund security deposit a given number of days from check out.

Send check-in/check-out instructions with house manual and area tourist information some number of days prior to check-in date.
Member
theresa gwinner
added:

Yes arrival instructions a few dates prior to visit but only if they are PAID in full.

Yes a thank you but I would include some option for feedback.

Yes payment reminder.

Yes past due reminder.

Also, a contract and deposit reminder if they're late, asking them to confirm that they still intend to visit.
Reply »
Recent Posts:
---
Monthly Archives:
---
Categories: