Happy New Year: Copy last year's rates, Review your contracts, Copy your new settings
January 7, 2013, by
Cindy Amato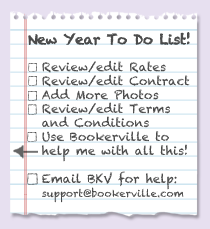 Start the New Year off on the right foot!
Copy last year's rates forward. Review and edit your contracts and email correspondence. Copy your new settings to other properties. Bookerville's powerful features makes it all easy!
Copy Rates Forward:
With just a few clicks, you can copy your rates forward to the new year, along with price adjustments. Learn more:
Copy Rates ForwardCopy Rates to Other Properties:
Got multiple properties that need new rates? Lucky you! With Bookerville's "Copy Rates" feature, you can copy your newly set rates to any and all of your properties with two or so clicks. (Look for the Copy Rates button located at the top right of the Rates tab.)
Replicate Settings Across All Properties:
You can now quickly & easily copy settings from one property to multiple other properties in your account. Learn more:
Copy to Properties
Curious what Bookerville can do for you? (You should be!) Sign up for a free trial:
Bookerville Vacation Rental Software
Superior online booking software, unbeatable pricing: Let Bookerville show you a better way!
Reply »
Recent Posts:
---
Monthly Archives:
---
Categories: