Are your emails not getting delivered?
May 1, 2013, by
Cindy Amato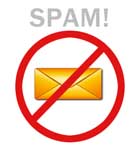 Email Spam and Sender Policy Framework (SPF) Records
Are some of your emails getting marked as spam, or not getting delivered? Read our new article on SPF records to address this growing issue.
Everyone knows that email spam has proven to be a real problem. To address this, popular email systems like Gmail, Hotmail, Yahoo, AOL and others have really beefed up their spam filtering algorithms to prevent this unwanted junk mail from reaching their customers' in-boxes.
Are you noticing a significant amount of your emails not getting delivered to your recipients, or winding up in their spam/junk folders?
If so, read this article to learn about the top three things you can do to help alleviate the problem.
Email Spam and SPF Records
We are happy to assist you in setting up your SPF records: just ask.
Reply »
Recent Posts:
---
Monthly Archives:
---
Categories: