Back to School, Back to Work: Let's Automate Your Vacation Rental Tasks
September 10, 2012, by
Cindy Amato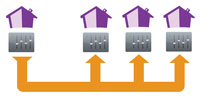 The kids are back in school, and summer vacation season is over. It's time to refocus on automating your vacation rental business.
Let Bookerville show you how easy it can be! Here are just a few recent updates:
---
Online Transaction Fees:
You can now set a transaction fee to be added and collected through Bookerville when guests pay you online. Choose from a flat fee or a percent of the total due. This can help you recover some or all of the expense of online payment processing fees.
---
Copy Property Configuration Settings:
There are new buttons in the upper-right area of most of the Property Setup tabs which enable you to quickly and easily copy settings from one property to any of your other properties. Copy property configuration, rates, email templates & settings, calendar colors & header graphics, and more.
Click here to see more:
Copy to Properties
---
At-A-Glance Tab:
A new tab on the Dashboard takes you to an At-A-Glance page - showing you summaries of outstanding requests, arrivals, payments due, and past due items. And there's more: this tab will also show your account sub-users (members with permissions) what they need to know for the properties they have permissions on. Bookerville is actively seeking feedback from our community on this new feature.
Reply »
Recent Posts:
---
Monthly Archives:
---
Categories: